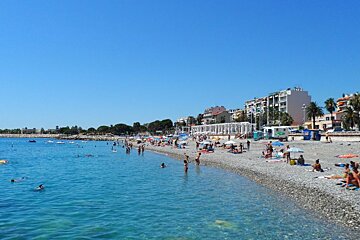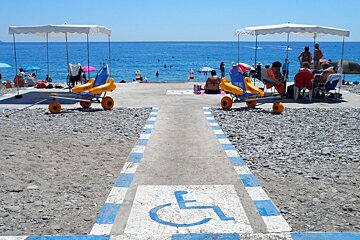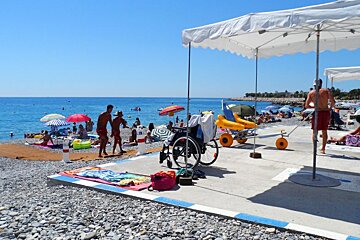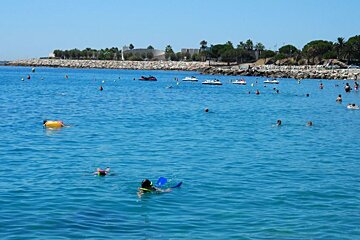 Plage du Carras Beach, Nice
Pebbly beach not far from Nice centre with disabled access
Plage de Carras is a well-equipped "handiplage", which has facilities and lifeguards to enable people with disabilities to enter the water safely.
Dog walkers will be happy to find one of the only dog-friendly sections of beach here as well; it is marked out so your hound can play happily in the waves within this stretch.
There are toilets and showers, but no parking other than roadside which is hard to come by. There is a bus stop, conveniently also called Carras, within just a few metres though and there are Vélobleu bike stations nearby.
Setting & Location
Carras is at the western (airport) end of the Promenade, so it's quieter than those closer to the centre of Nice but there is less in the way of restaurants and cafés nearby. Our advice is to pick up food and drinks on the way and have a picnic lunch.
Water Safety & Clarity
As well as specially adapted beach buggies to get people in and out of the sea there is also an audio system of buoys and wristbands that enable the visually impaired to swim alone and a 'safety net' that ensures they won't end up miles out into the bay.
Carras is also popular with families, due to its vigilant lifeguards and slightly calmer waters than further east along the bay.
Beach Quality
Like all of the beaches along the Promenade des Anglais, Carras is a pebble beach.
Watersports Nearby
A great idea is the Cabane Bleu - a little blue hut where you can borrow books for free. You can only find them at Carras, Poincaré and des Ponchettes so far. These beachside libraries stock a range of books and magazines for children and adults in a variety of different languages.
You will also find plenty of watersports nearby and companies that will either take you out or rent you equipment so that you can enjoy the azur blue waters of the Mediterranean. Beach sports are also popular, with a volleyball court set up and plenty of people enjoying bat and ball games.
Location