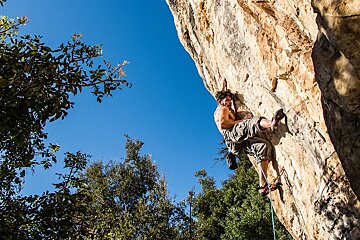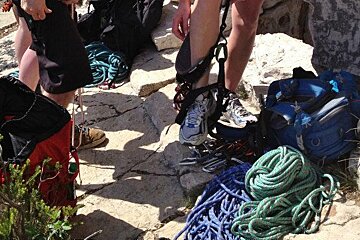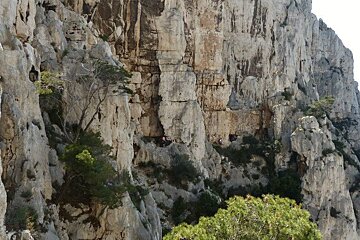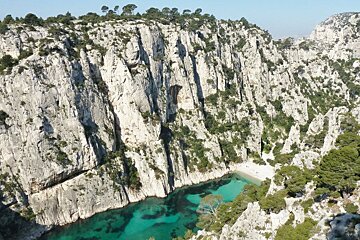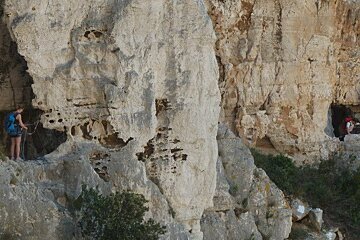 Climbing in Nice
Discover the top Nice climbing
With the Alps looming huge over the rocky coastline, immense gorges cutting through the landscape and towering limestone cliffs plunging into the crystal clear Mediterranean, the Cote d'Azur and Provence hold astonishing climbing opportunities.
Climbing
From the world famous routes at the spectacular Verdon Gorge and Les Calanques to the cliff-face hanging above glittering Monaco at La Turbie, there are many thousands of routes for all levels and tastes- and the even better news is that you don't have to stray far from the coast to enjoy them. Here is a shortlist of some of the best climbing locations in coastal South Western France.
Around Nice & Monaco
La Turbie so close to the coast that you'll feel like you're hanging right over it, La Turbie is one of the most spectacular climbing spots on the Riviera, and at only 20 minutes from Nice one of the most easily accessible. As you clamber up the face of 'La Grande Face', the glittering city of Monte-Carlo is almost vertically under you, and the Mediterranean stretches out endlessly below. There are around 600 routes around the village of La Turbie, ranging from 6a to 8b, requiring a 70 to 80 metre rope. La Grande Face is an impressive section of cliff with overhang, which has 25 routes graded 7 and 19 routes graded 8. Spring and autumn are the best times to climb La Turbie as it receives a lot of sun so can get very hot- but this also means that the routes dry out quickly after rain. The popularity of La Turbie does meant that the limestone rock has become pretty polished, with some of the older hangers slightly degraded.
Gorbio is easily reached from the hilltop village- and it offers some lovely views across the town and surrounding countryside. This is a popular climbing site, with 3 buttresses, big pitches and a good range of grades for all levels. Can get busy on weekends!
Baou de Saint-Jeanet near Vence is a popular and accessible place to climb. Rising up huge over the village, this crag offers some of the best climbing close to the coast, with hundreds of routes catering to all levels and generally good to very good fixed gear. The main drawcard is the Main Face, which has about 50 routes crisscrossing its vast, west-facing surface. There are also some interesting climbs on big boulders, some training slabs and two routes listed in the region's top 50 as according to RockFax: 'La Tonton Walker' and 'l'Ange'.
Peillon (to the north west of La Turbie & Monaco), this is a small village perched on a cliff-top backed by immense cliffs and mountains, so unsurprisingly it has some good climbing. There is a selection of good sunny crags in the area with considerable variety- La Grotto is the main event, offering difficult climbing on tufas, while Derriere La Bloc has some excellent face climbs and Bas Roux is popular for its variety of routes.
Gorge du Loup, thhis immense gorge near Vence has some excellent climbing - although it does tend to be for more experienced climbers due to some difficult climbs and some seepage. The best time of year for climbing in the Gorge du Loup is summer as it dries this moisture out and the shade and frequent breeze keeps you a bit cooler. There is an abundance of routes in the Gorge du Loup; some noteworthy ones are the crags at Jurassic Park, Mesa Verde, Cayenne and Deverse- the last of which has the most difficulty with a grading of 8a. The Gorge du Loup is a lovely spot to climb, with some great views over the river Loup (river of wolves) winding through the forested valley.
La Trinite (to the north east of Nice), for those short on time and looking for a climb close to Nice airport in a rather unusual setting, head to the disused quarry at La Trinite. The climbing at this crag is surprisingly good with 32 routes and is very accessible from Nice. In addition to some fairly difficult face climbs, it also has a face where beginners and children can find their feet. The face is quite smooth in places.
South East Provence & Marseilles
Gorges du Verdon, one of the best rock-climbing sites in Europe is to be found at the spectacular Gorges du Verdon. Attracting beginners to world-class climbers, the walls of this flooded canyon with its startling sapphire waters is an exceptional place to climb, with 1500 routes on excellent quality limestone, including the famous Falaise de l'Escales route, which rises over 300 vertical metres. The Le Verdon hills surrounding the gorge are full of climbing adventures- with 933 classified routes, including the limestone routes at Quinson, Moustieres Sainte Marie, Castellane and the sandstone rocks of Annot. A whole climbing guide could be written on Le Verdon alone!
Les Calanques, down near Marseilles you'll find the famous Calanques - towering limestone cliffs that plunge into the clear blue Mediterranean, creating majestic fording promontories and secluded bays. The Calanques are riddled with climbing routes- there are more than 2500 bolted routes and around 1000 traditional routes, and because the cliffs are all different in orientation you can find good climbing conditions in almost any weather. However, access to the Calanques is restricted during the summer months due to high fire danger so you will often have to go in by boat.
Callanque d'en Vau, this is probably one of the most beautiful climbing venues in the world - with cliffs rising up around a small gorge-like bay of startling pale blue. Unsurprisingly, this venue gets a lot of traffic- and has done for the best part of a century- meaning the rock is often quite smooth in places and it's also only partially bolted. This is a pretty special place to climb, with a superb setting and a good variety of routes – just avoid weekends if you possibly can, where climbers hang from the rocks as far as the eye can see…
Le Goudes, close to the pretty fishing village of Callelongue, is the westernmost Calanque and offers over 300 routes and over 100 sports routes. The variety here is brilliant and has something to please everyone, with shady, sunny, multi and single pitch courses- and because the orientation of the cliffs are all different in the Calanques there's always shelter from the wind to be found. Be aware that because this site is so wonderfully picturesque, you will be sharing the climbs with hordes of others on weekends- come here during the week if possible.
Paroi du Toits, again in the magnificent Calanques, you'll find the Paroi du Toits venue, with nearly 100 sports routes and a great sheltered setting which makes it particularly good for winter climbing when the Mistral wind can tear through this region. There's an excellent range of climbs here. Again, its proximity to Marseilles and the sheer beauty of this region can make it rather busy!
Sainte Victoire, heading deep into the Var west of Aix en Provence, you'll find the impressive mountain of Saint Victoire, which is absolutely criss-crossed with more than a thousand routes and is known as 'Cezanne's mountain' after the painter who captured it in his work. This huge mountain with its sheer limestone faces and huge stretch of white rock has a 7km plateau which resembles a long ridge, with a peak of 1011 metres at Pic des mouches. The best climbing is found on the south face, with most of the climbing taking place on the long stretch of cliff near the base of the mountain. Much of the climbing is challenging, requiring delicate footwork and strong nerves- particularly the 7c legendary route 'Le Medius'. Some of the fixed gear on the older routes is a bit shabby, however, despite the mountain's popularity for climbers, the rock is still quite sticky. Be aware that in summer you have the double inconvenience of extreme heat on the cliff-face and extreme fire danger causing mountain closures- spring and autumn offer the best climbing months.
St Tropez
Les Marinouns (to the north of St Tropez & Sainte-Maxime), this crag in the area of Chateaudouble village is a very good climbing venue, with over 100 routes varying in grades from 3c to 8b. It's more remote and takes a long walk in, but has some very good quality climbing once you're there- with big pitches, some tricky wall climbing and lots of sunshine.
Via Ferrata
For those wanting a less challenging introduction to mountain climbing, there are some excellent Via Ferrrata courses away from the coast in the Alps. These fixed steel cables are run along cliff-faces, often with ladders, iron rungs, pegs and even steps included to allow inexperienced climbers to enjoy the extraordinary feeling and vistas at the top of the world. The Alpes-Maritimes have 8 Via Ferrata climbs beginning at Auron, La Colmaine, Tende, Lantosque, La Brigue, Puget-Théniers, Peille and La Moulière. For more information see the website RandOxygène.
This is far from an exhaustive list of climbing venues in the southwest region of France. For more detailed information on routes and climbing conditions, visit the excellent resource at Rockfax.com, who also publish an exhaustive climbing guide of the area.