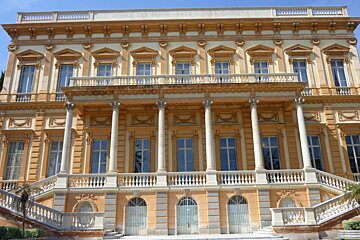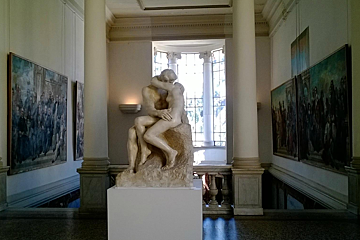 Fine Arts Museum (Musee des Beaux Arts), Nice
Art from the 16th to the 20th century in a beautiful villa
Located in the Baumettes neighbourhood, this Fine Arts museum is housed in an impressive 19th-century villa and contains an important collection of paintings and sculptures.
The villa was built in 1878 by the Ukranian princess Elisabeth Kotchoubey near the important Russian colony in Nice. Decorated with pseudo-Pompeian mural paintings and surrounded by an English garden, the villa hosted receptions, concerts and balls.
In 1925, the town of Nice bought the building to transform it into a Fine Arts Museum, which opened in 1928. The collection is the result of donations and includes paintings and sculptures by Fragonard, Rodin, Monet, Sisley, Degas, Corot, Courbet, Dufy, Chéret and many other artists.
Visitor comments
"Visiting this museum was another very pleasant experience for my husband and I, during our stay in Nice. Located in a beautiful and elegant building, the art collection presents ancient religious art, important French painters such as Gustave Courbet, Camille Corot, among others, lovely sculptures by Auguste Rodin, Carpeaux, etc. It's a very pleasant and comfortable place to admire the artworks they exhibit. The staff is very friendly and kind and, when you're tired, you can rest in the lovely garden. I recommend." - Trip Advisor
"Very impressed by the outstanding collection, including religious paintings over 750 years old, a large sculpture by Rodin, 4 pottery pieces by Picasso and much more. The neighbourhood is a delight to walk around and is located a few minutes walk from La Promenade des Anglais." - Trip Advisor
"A lovely collection of paintings in a beautiful old palace, that is manageable without being overwhelming. Would certainly recommend a visit." - Trip Advisor
When to come
The museum is open every day from 10:00 to 18:00 except on Mondays and January 1st, Easter Sunday, May 1st and December 25th.
How to get passes
Tickets grant admission to all municipal museums and galleries, including the Matisse Museum, the Naive Art Museum and the Modern and Contemporary Art Museum:
10€ for 48hr admission
20€ for 7 day admission
Groups of 10 people and more, 8€ for 48hr access. Free entrance to children under 18, students, unemployed persons, disabled persons, war veterans, museum curators and journalists.
Location