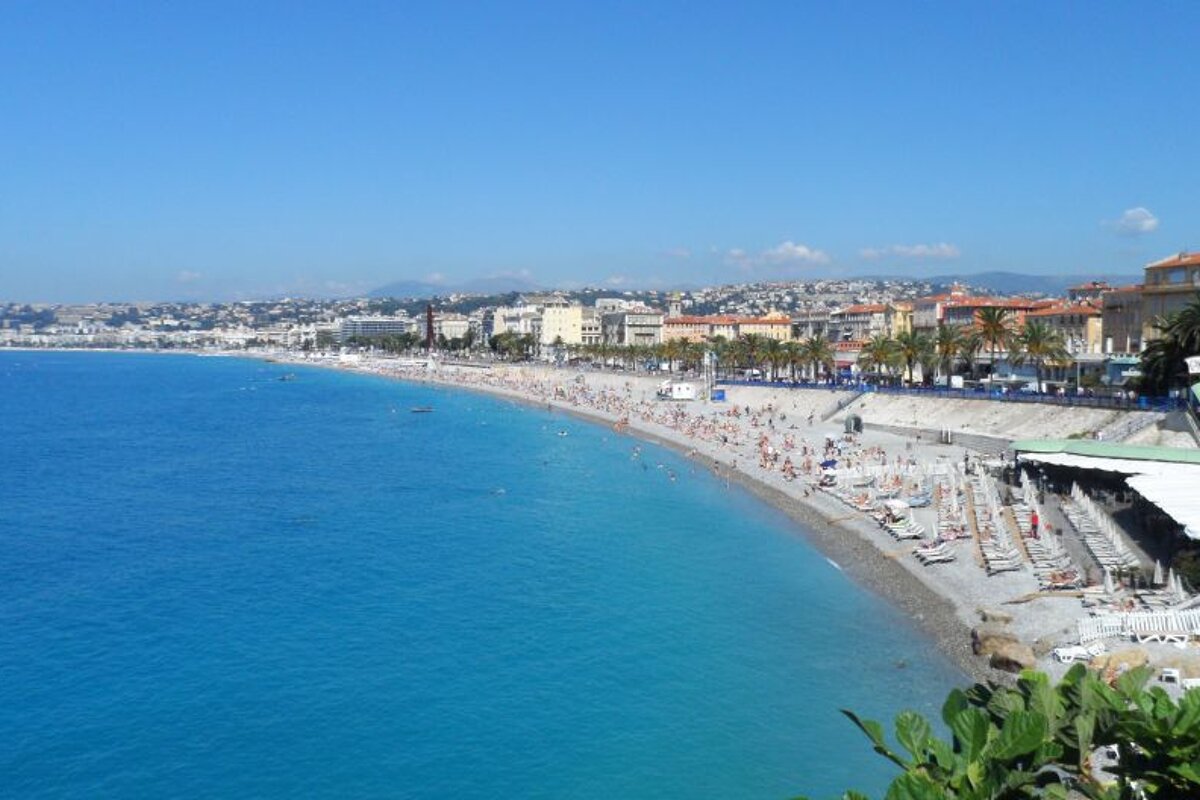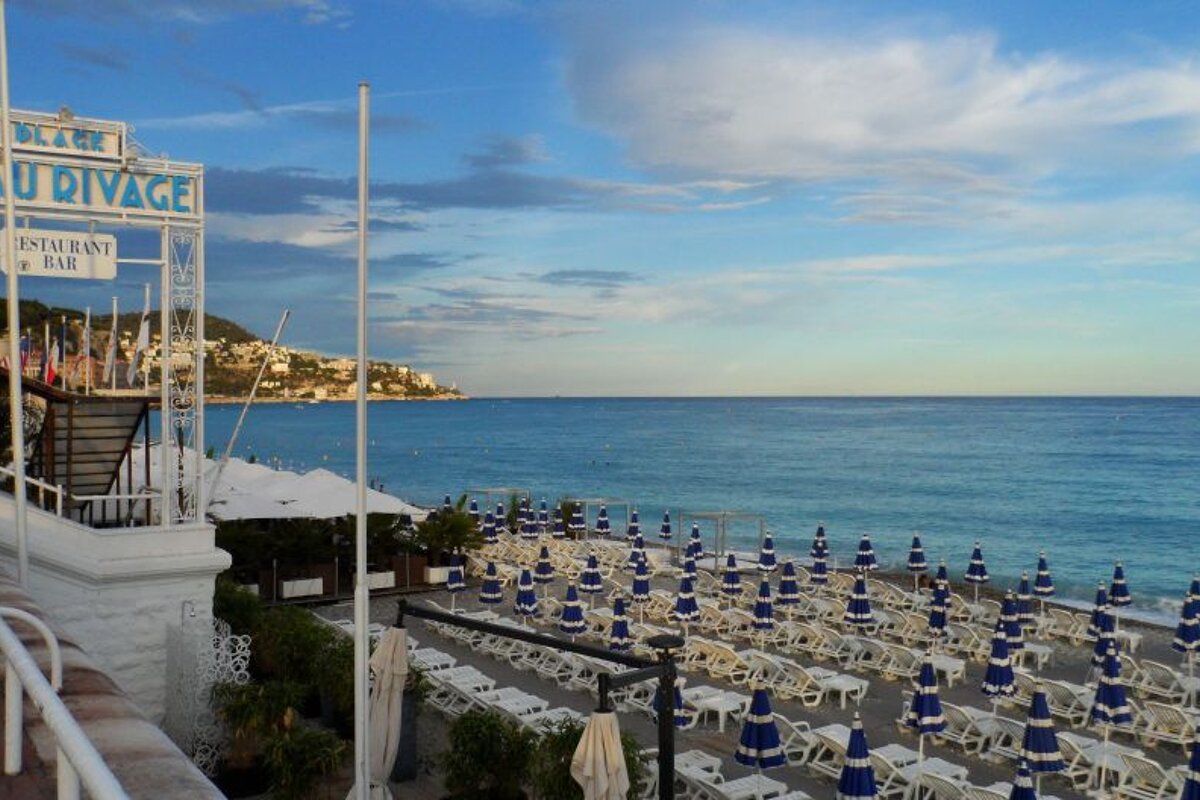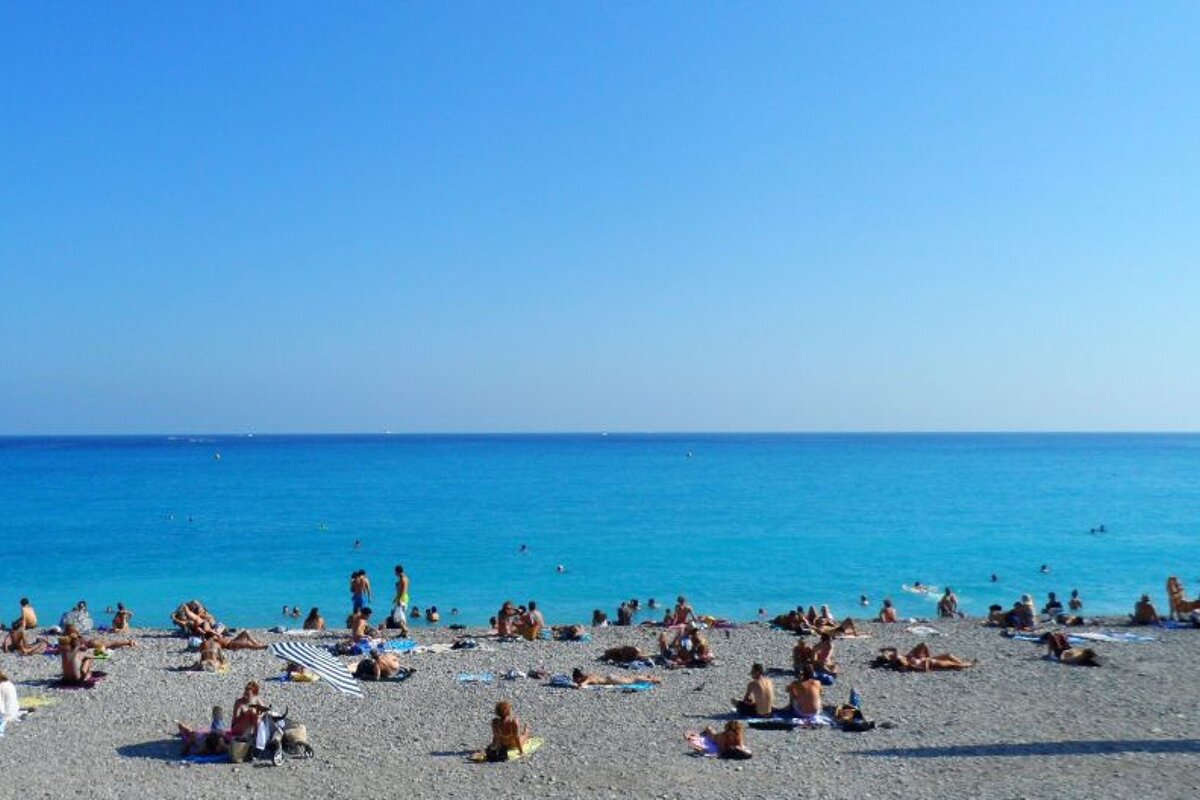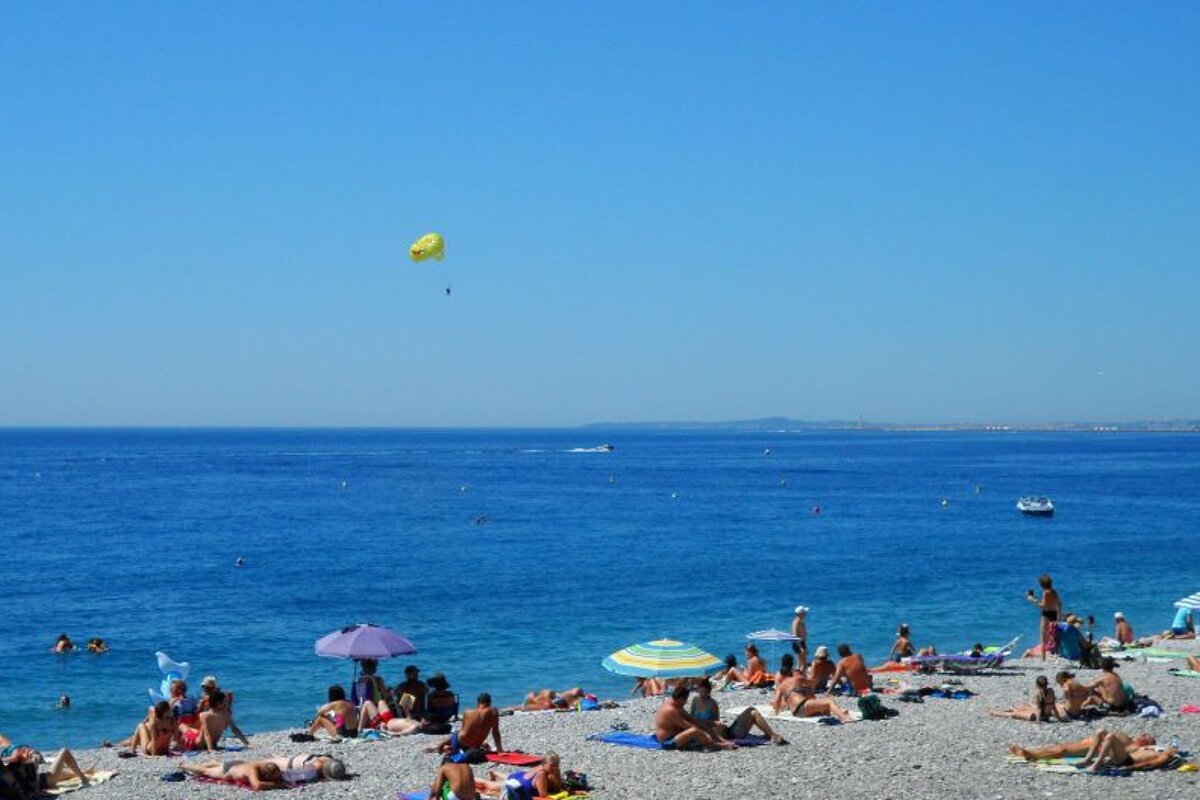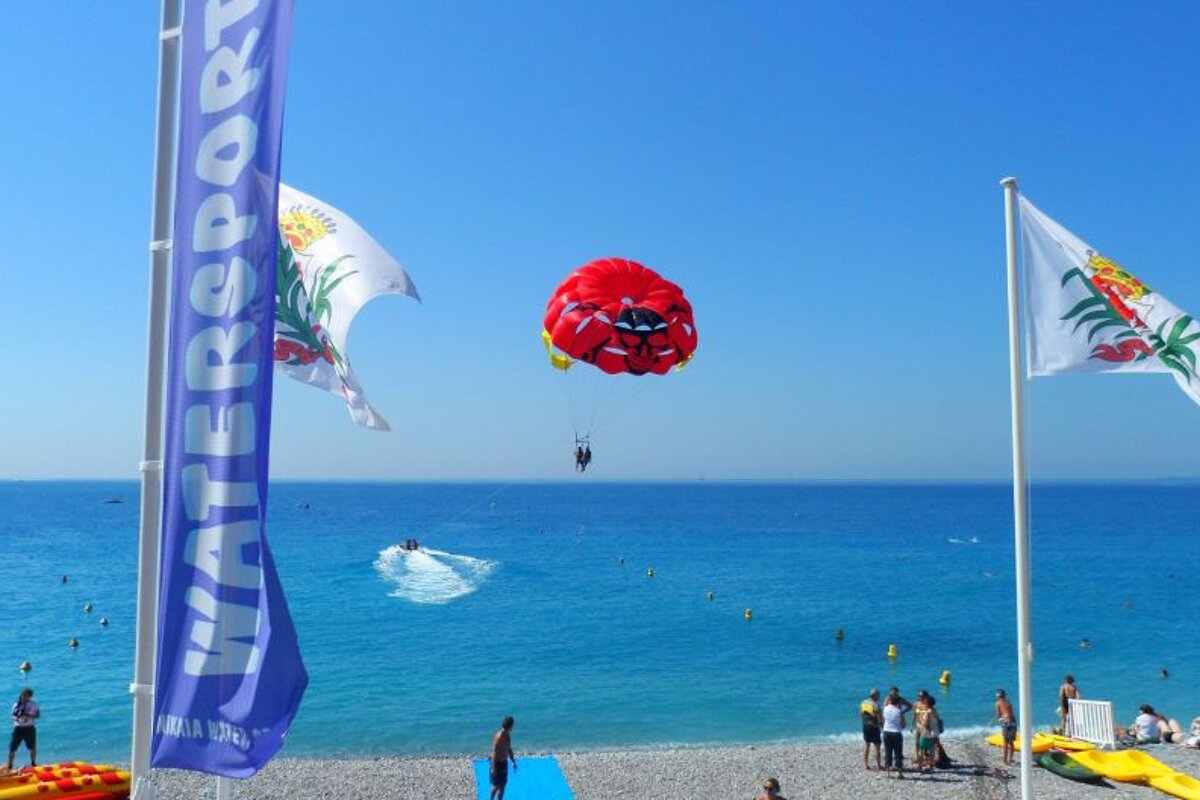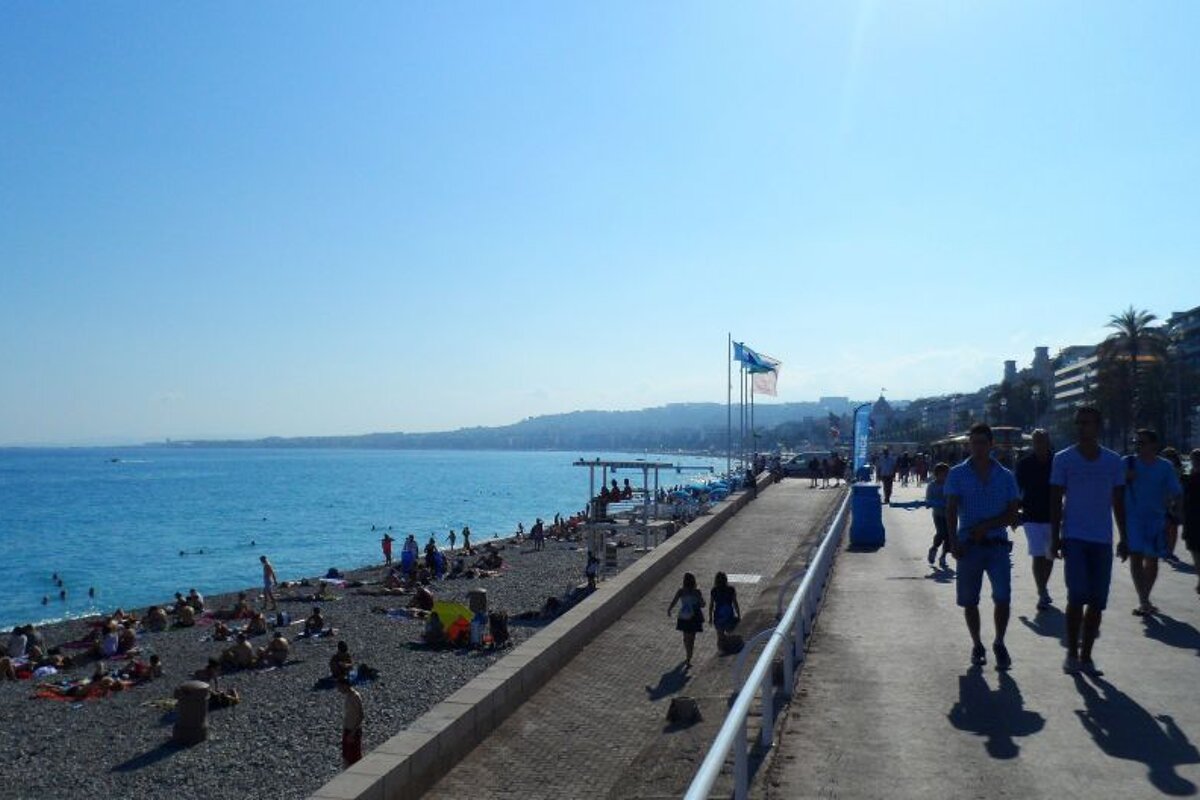 Promenade des Anglais Beach, Nice
The most famous stretch of beach in Nice
This long stretch of pebble beach in Nice runs along the Baie des Anges and is backed by the Promenade des Anglais.
The long pebble beach stretches for around seven kilometres and is a mixture of private and public sections. The private sections are leased to beach clubs and restaurants where, as well as buying food and drinks, you can rent sun loungers and parasols for some serious sunbathing.
About half of the beach is public and free of charge, and you will find that most sections are equipped with toilets and showers. There are also a couple of underground storage rooms (accessible from the Promenade) where you can hire a secure locker.
Plage Carras at the far end of the promenade, close to Nice Cote d'Azur airport, is well-equipped for handicapped swimmers - there is a designated area where lifeguards will help people in and out of the water using specially adapted beach buggies. The western end of the beach (closest to the airport) seems to be quieter and more popular with children and locals, whereas the closer you get to the centre of town the more lively and touristy it gets.
Beach Bars & Beachclubs in Nice
You will find many beach clubs lining the Promenade des Anglais beaches. Plages Ruhl and Beau Rivage exude typical Riviera chic, Hi Beach is fun and funky, whereas Neptune is the best for families with a children's play area - have a look at our Beach Clubs page to find out which ones we recommend.
Setting & Location
Framing the stunning Baie des Anges (Bay of Angels) the pebble beach follows the route of the Promenade des Anglais around the bay from nice Cote d'Azur airport in the west to the Pointe de Rauba-Capeau in the east, finishing in front of the Hotel Suisse.
Water Safety & Clarity
The bright blue sea is clearly marked with yellow floats to keep swimmers and boats safely apart; the water is generally very clean with blue flags pointing out the best areas. Yellow flags advise against swimming, while orange flags warn of dangerous currents or invading jellyfish! Some of the beaches have lifeguards during the summer season, look for green flags.
Jellyfish: Stingers do sometimes plague Riviera beaches, but luckily some lovely soul maintains a jellyfish alert website, updating recent sightings of jellyfish along the Cote d'Azur. Check it out here - it's in French, but it's pretty easy to understand: it has big red jellyfish marked on the map, or green flags where it's good to swim.
Beach Quality
This is a typical pebble beach of Nice. Due to the large pebbles we definitely recommend wearing rubber beach shoes, they may not look stylish but they'll make walking into the sea a whole lot easier - trust us, we've tried.
Watersports Nearby
You can try all sorts of watersports, from jet skiing to parasailing. Many of the private beaches have canoes and paddle boards to rent but Glisse Evasion in between Blue Beach and Plage Neptune is where the action's at - you can do all of the above as well as wake-boarding, inflatable boat rides and more.
Location
Nice Centre, Nice