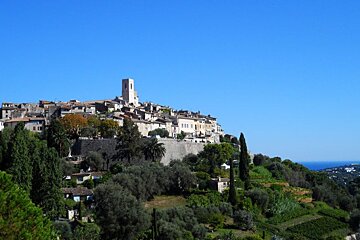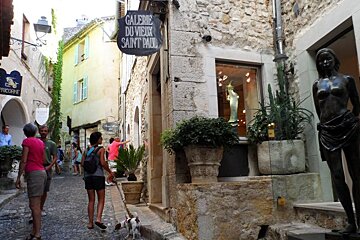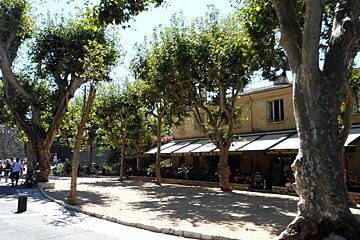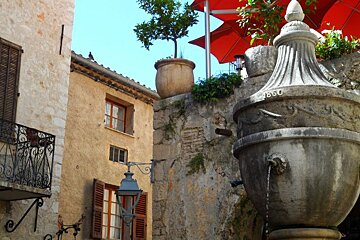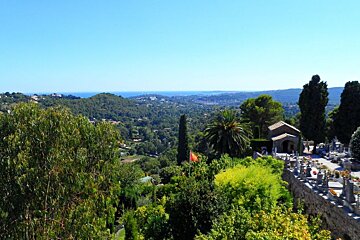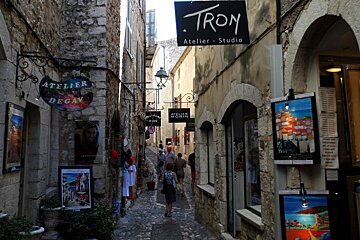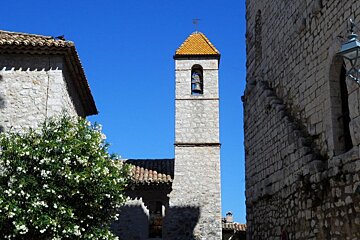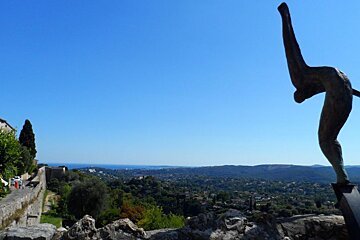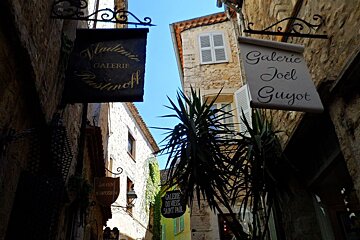 Saint-Paul de Vence, Alpes-Maritimes
Perfectly intact medieval village renowned for its art
Saint-Paul de Vence is known for being an art mecca, hundreds of galleries and workshops tucked amongst the tiny old streets of a perfectly preserved medieval village.
The lanes are full of art galleries, gift shops and chic cafés. Sculptures appear around every turn and many charming fountains can be found in nooks and crannies around the village. Many of these artists live in the surrounding area and have workshops and studios which provide a wealth of art in all different styles - modern, abstract and figurative. Other crafts made locally include woodwork, weaving and ceramics, all of which can be bought in the village boutiques.
At the entrance to the village is a large square lined with olive trees where locals gather daily to play boules and sip pastis. They are well-used to being gawped at and photographed and are usually happy to explain the game to you, even happier if you buy them a drink to say thank you. There is a friendly bar with a long terrace that runs the length of the square where you can relax and watch the daily life of Saint Paul de Vence go by.
Although definitely a "must-see", Saint Paul de Vence suffers from being on everyone's list of places to see and so it's swarming with people throughout the year, try to avoid peak tourist season if possible. The tourist office provides guided tours in many languages during the summer.
History & Culture in Vence
The village dates back to the 12th century when the chateau was built at the summit of the town, a walk around the perfectly intact ramparts shows just what a strategic position it held looking out for miles in all directions.
It developed throughout the middle ages when the pretty narrow streets and charming squares were built. Saint Paul de Vence gained notoriety in the early 20th century when a bunch of artists made it their home - Matisse, Chagall, Renoir, Modigliani, the list goes on.
Since then, writers, artisans, film directors and international celebrities have spent time here, enhancing its reputation as a haven for artists.
Sights & Attractions in Vence
With a multitude of art galleries to peruse you really can get lost wandering around this town. They hold a varied collection of local French Riviera style paintings to International artists and of works by the famous artists of the region such as Van Gogh, Cezanne and Picasso...it just depends on your budget.
Events in Vence
The main market is on Wednesday morning, with local produce markets open on Tuesdays, Thursdays, and weekends. Saturday morning also sees a flower and plant market at the entrance to the village.
There is a small winemaking community that has cultivated some of the surrounding land, and small quantities of rather good Côte de Provence wine are produced here each year.
Where to stay in Vence
Some of the best accommodation on the Riviera is to be found around St Paul de Vence. From delightful and charming B&B's where you can immerse yourself in French Provençal country life to luxury spa resorts where they will make you feel like royalty in your very own château. And all with wonderful views down to the coast and the sea.
Location