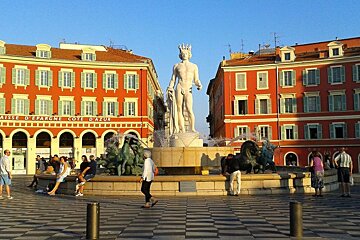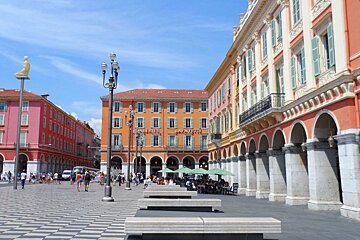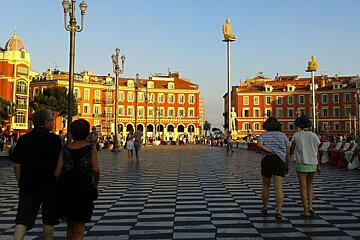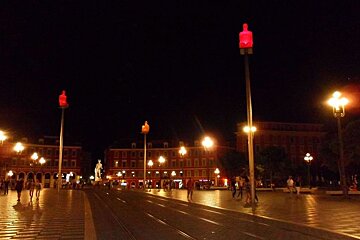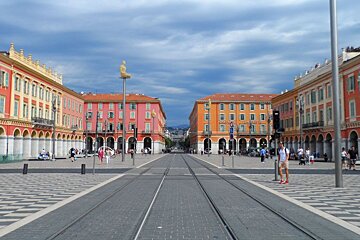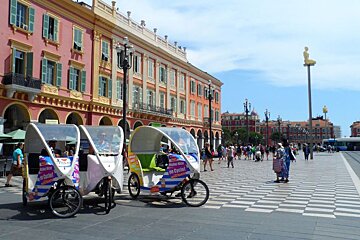 Place Massena
Nice's beautiful main square
This large grand square was originally two 19th-century squares, the Place Masséna and the Place Charles-Albert. It has undergone many changes over the years, including the addition of a tram-line that has effectively pedestrianised the square. It is now a wide open attractive space with beautiful architecture all around, although it's a very busy thoroughfare it rarely gets too crowded.
The distinctive black and white tiled floor is offset by the deep red brick buildings made with rock from Pompeii. Lined with palm trees and stone pines with a large fountain at one end, Place Massena is a popular place for locals to meet for lunch. From a salad bar here, where you can get all sorts of healthy snacks and meals as well as fresh fruit juices and smoothies to, if you're looking for something a bit more upmarket, a number of 4* hotels in the area that all have fine restaurants.
Such a central location with so much space means that Place Massena is often used for open air concerts, entertainments and celebrations. It is at the heart of all festivals such as the Fete de la Musique, the Nice Jazz Festival and the Bastille Day parade.
Place Massena is also where two of Nice's best shopping districts meet: Avenue Jean Medecin and the Zone Pietonne. Avenue Jean Medecin hosts all the main high street brands such as H&M, Zara, Mango, etc as well as the Nice Etoile shopping mall. Rue Massena is at the heart of a network of streets known as the Zone Pietonne (pedestrian zone) where you'll find many designer brands along the lines of Hugo Boss, Louis Vuitton, Chanel and Cartier.
You may not notice them during the day but at night Jaume Plensa's seven statues are lit up and gently change colour in a flowing sequence. The statues are of seven kneeling men, high up on poles above the square; they are meant to represent the seven continents coming together in harmony and are called "Conversation in Nice".
Recently renovated, the Promenade du Paillon leads from Place Massena up to Place Garibaldi and is a fantastic addition to such an urban area. The wide stone-paved walkways weave their way through 12 hectares of grassy gardens, colourful flowerbeds, inventive children's play parks and the sometimes startling Miroir d'Eau - a large paved area dotted with water jets that alternate between gentle mist and high fountains.
Visitor comments
"Gorgeous during day and night, mostly with the fountains and the perspective. Walking along the green way is a must, from acropolis to the sea. Old town is nearby. Located in the 'Gold square'" - Trip Advisor
"Beautiful place with interesting water feature and modern lamp post sculptures that change colour at night. Within very easy walking distance of plenty of restaurants and bars." - Trip Advisor
"Vibrant colors, 2 wonderful fountains, checkered sidewalks, huge space, amazing sculptures sitting on tall poles, etc all this contributes to this special atmosphere that comes out of this square. Do not miss it at night and make sure you look up at the lit sculptures that change colors, a wonder." - Trip Advisor
Location