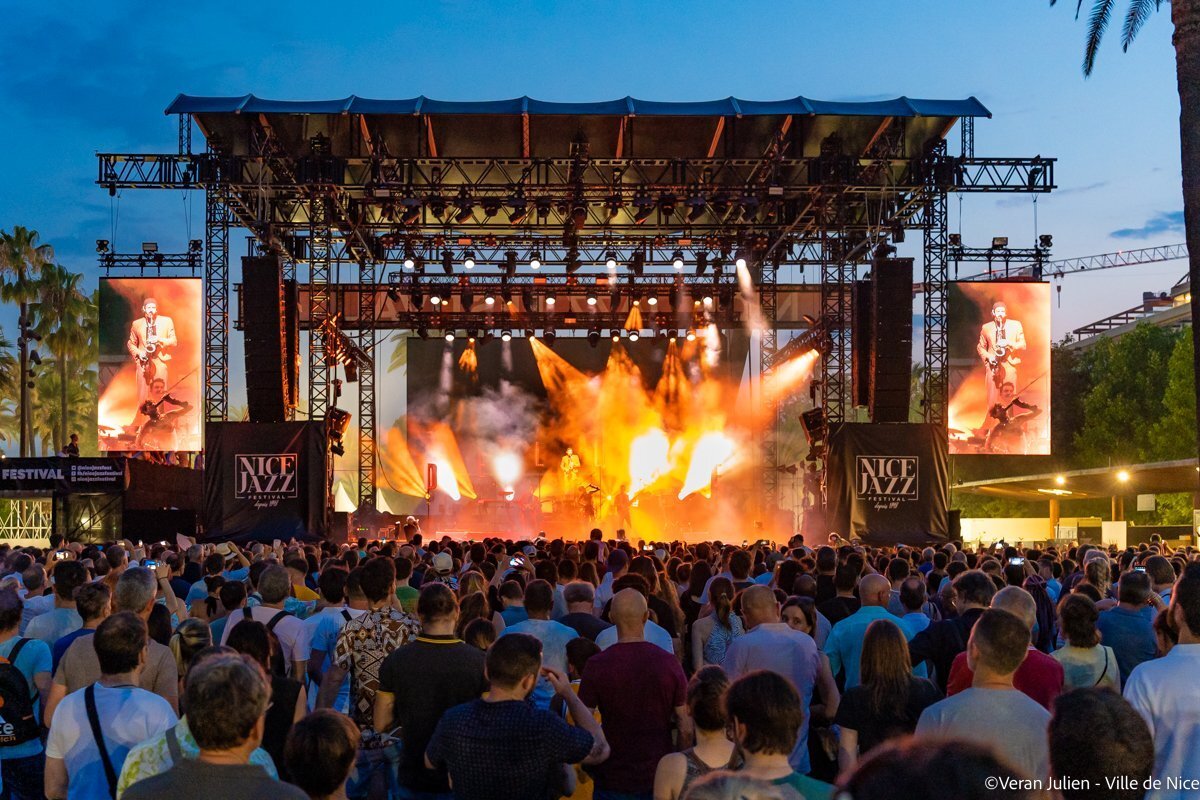 Nice Jazz Festival
Contemporary jazz from around the world since 1948
The first jazz festival in Nice was held in 1948 and it continues today with a strong emphasis on contemporary and diverse music performances on multiple stages.
Open-air performances on the French Riviera, where you'll find an eclectic mix of traditional and modern sounds with an international line-up.
Watch this
Venue
Theatre de Verdure and Place Massena
What to see
Since 1994 the change of emphasis has been to include more world music and pop, and there are several stages where groups perform simultaneously each evening. Since 2011 the festival has moved to more centrally located Place Massena.
Please visit the website for information on performing artists and tickets.
History
In 1948, the curtain was raised at the Opera with Louis Armstrong and the Hot Club de France quintet.
After a long break, in 1971 and 1972, the festival now named as 'The Great Jazz Parade' took place at the Théâtre de Verdure and in the Jardin Albert 1er, attracting artists such as Ella Fitzgerald, Pharoah Sanders, T-Bone Walker, Herbie Hancock Quintet, Al Grey, Connie Key, Dizzie Gillespie and many many more.
From 1974 until 1993 The Great Jazz Parade's venue was the Arènes de Cimiez, and during this time the festival underwent tremendous growth under the wing of producer George Wein. Every summer dozens of orchestras and more than 200 musicians invaded the various stages set amid the olive trees and Roman ruins. The biggest names in jazz performed there: Stéphane Grappelli, Dizzy Gillespie, Art Blakey, Miles Davis, Fats Domino, Chuck Berry, Carlos Santana...
In 1994, The Grande Parade became the Nice Jazz Festival, and it opened up to other musical trends, making it more popular than ever. In 2013 nearly 38,000 people attended with acts such as Earth Wind and Fire, Ben Harper, Maceo Park, and George Benson. Now managed by the Nice mayor, the legendary names that flocked to play at the festival continued to rise. In 2018, the 70th anniversary was marked with performances from Gregory Porter, Massive Attack, Jack Johnson and more, with over 40,000 spectators in attendance. In modern times a strong and eclectic program is created including national and international stars.
Entering
There is no age restriction, but parents are strongly advised not to bring toddlers or preschool children to the festival grounds.
Location