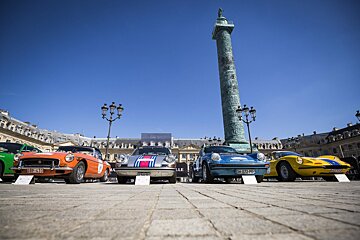 Rallye des Princesses (Women's Car Rally), Nice
Around 80 collectors cars take on the route from Paris to Nice
This route crosses some of the most beautiful areas in France. This is THE female car event not to be missed.
The women will drive from Paris to Nice in just five days in their beautiful and immaculately looked-after vintage cars. They will be welcomed into Nice with open arms.
"Like champagne or a rare perfume, the ladies car rally (or in French "Rally des Princesses") holds some magic. As soon as they are registered, every lady becomes an actress in an adventure/road movie. The shooting begins in Paris to end at the edge of a sparkling sea in Nice, and the intense memories stay in mind until the next season..."
Watch this
What to see
The rally is not intended as a race, speed not being the determining criteria, but an average speed is determined based on the age of the car and careful adherence to the determined speed is to be carefully followed.
The rally is set over five days and have five stages of between 300-350km per day with fine lunches and dinners in historic locations.
Departure is from Paris - Place Vendôme in the 1st arrondisement. The arrival in Nice five days later is followed by a gala evening.
History
Created in 1999 by Viviane Zaniroli, wife of Patrick Zaniroli (former sports journalist, rally-raid driver and organiser of the Paris-Dakar rally, which he won in 1985). It was inspired in some small part by the Rallye Paris-Saint Raphael Feminin, created by Count Edme de Rohan-Chabot and run from 1929-1974.
Viviane called it Rallye des Princesses because "the name Paris-Saint Raphael was still reserved, so I called it Rallye des Princesses. We are all princesses and deserve, like these gentlemen, to have a great automotive event dedicated to us".
In September 2000, 18 crews started and the following year it was 36. The crews were allowed to be mixed until 2012, when only the co-pilot could be a man, and after 2012 it became a woman-only event.
Facts & figures
Some real princesses have taken part. Helene of Yugoslavia took part in 2000, 2002 and 2006, and Hermine de Clermont-Tonnerre has participated ten times.
Location