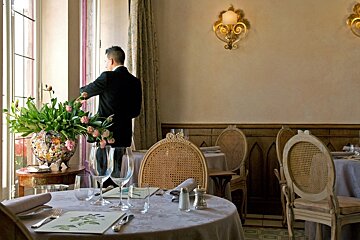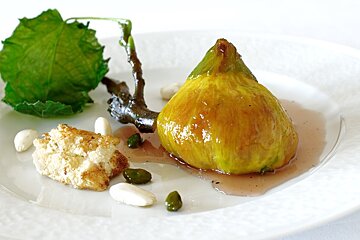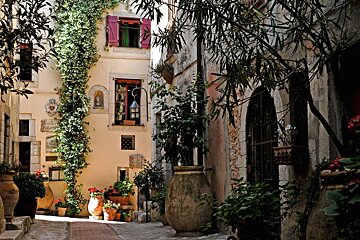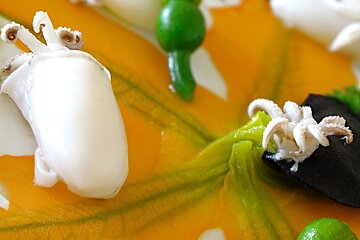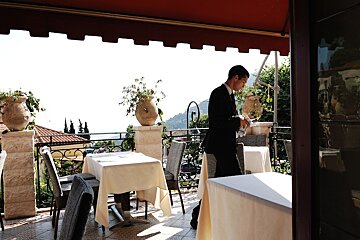 Hostellerie Jerome Restaurant, La Turbie
Michelin starred restaurant in the heart of La Turbie
Chef Bruno Cirino prepares Mediterranean dishes that carefully showcase the flavours of local produce. A light and creative cuisine that you can enjoy in their elegant dining room with vaulted ceilings and frescoes or their shaded terrace overlooking the sea.
There are various tasting menus to choose from, featuring mouthwatering dishes. Combine them with a bottle from their extensive wine list, carefully selected by head sommelier Marion.
The restaurant is open for dinner only Wednesday - Sunday except in July and August when it is open every evening.
Visitor comments
Food is flawless, quality has been consistent over the years, service is excellent, smooth, very attentive, but not overbearing. Place is very small, reservation are a must." - Trip Advisor
"One of the best dinning experiences of our holiday. Truly gourmet excellence, served with the utmost care." - Trip Advisor
"A wonderful restaurant. Creative, absolutely delicious cuisine régionale, warm and efficient service, a small, sophisticated restaurant in a rustic setting just 15 minutes away from the glitz of Monte Carlo. Extremely good value for this level of cooking." - Trip Advisor
Location