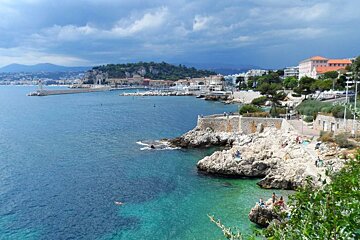 Blue Flag beaches in Nice
Beaches in the Bay of Nice boast the prestigious label
The FEE (Foundation for Environmental Education) is a non-profit organisation that awards the sought-after Blue Flag label. And if you're planning on a visit to Nice and its beaches, you'll be pleased to know that the Bay of Nice has a total of five Blue Flags.
Well-known for their crystalline turquoise waters and wide range of facilities, the beaches in Nice are among the most famous in the world so it's not surprising that five of them have been awarded the coveted Blue Flag: Centenaire, Magnan, Saint Hélène, Coco and Carras.
The beaches are evaluated each year based on 32 separate criteria, each beach or marina is judged on the quality of the water, safety and services (including lifeguards and first aid), information for beach users, environmental education and protection of the coastal environment. A beach without an eco-flag isn't automatically less clean, some municipalities simply cannot afford or do not want to meet the strict requirements of the FEE.
Tips for making the most of Nice's beaches:
If swimming at the two beaches east of the port, Militaire and La Reserve, it's best to keep your head above the water, these beaches are not known for their water quality, mainly due to their proximity to the port.
It's nice to know that the water at the Baie des Anges beach is quality tested weekly during the summer season, and you may even see the little boat taking samples if you're there early enough.
The sea water can appear cloudy after a storm, in fact many Nice residents avoid swimming for a couple of days after heavy rain due to the overflow from the Paillon river.