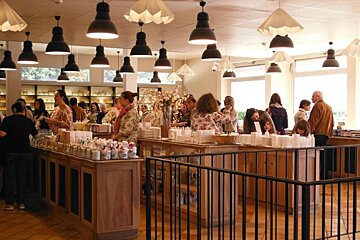 Parfumerie Fragonard, Eze
Factory and museum of one of the leading producers of perfume in France
This factory for perfume, soap and cosmetics, has very modern laboratories and workshops. Discover the secrets of manufacturing perfumes and cosmetics.
Free guided tours are available in all European languages​​. Open daily from 08:30 to 18:30 (closed from 12:00 to 14:00 for lunch in November to January). They offer free guided tours throughout the year, which must be requested and reserved in advance.
Visitor comments
"The free guided tour was very informative and the guide knowledgeable, amazing how we are all getting ripped off with smelling nice...just 5% perfume in gents eau de cologne the rest is water! Great to see the workings of a perfumery." - Trip Advisor
"It's a nice stop if you are in the area. A great place to find something to bring home. Interesting to see how the soaps and perfumes are made." - Trip Advisor
"My wife loved it and I'm glad we did it tour. You can get some VERY nice perfume at a pretty reasonable rate while learning a lot at the same time!" - Trip Advisor
When to come
This factory is open all year round. The only exception is during lunch time in the winter months when the factory is closed to visitors.
How to get passes
There are free guided tours all year, contact them for more information.
Location