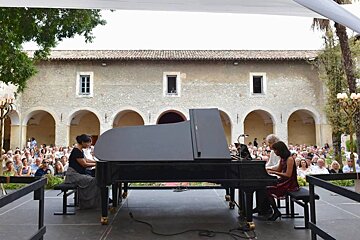 © Académie Internationale d'Eté de Nice
Nice Classic Live Festival
A month of musical entertainment at the Cimiez Cloister
The Nice Classic Live Festival is hosted at the Monastère de Cimiez, the Palais Lascaris and the Matisse Museum. It offers a wonderful melting pot of talent with both professors and students of the conservatory.
Each summer the cloister provides a beautiful setting for a whole host of concerts including recitals, chamber music and orchestral enjoyment.
For more information regarding the specific concerts and tickets please contact them via the email above to visit their website directly.
Venue
Cimiez Cloister, Palais Lascaris and Musee Matisse
Location