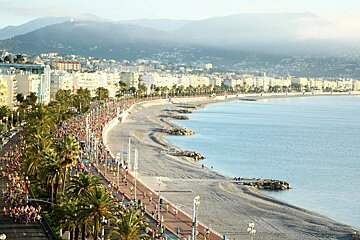 © Marathon des Alpes-Maritimes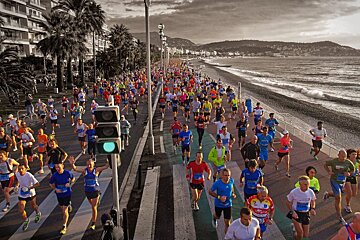 © Marathon des Alpes-Maritimes
Marathon des Alpes Maritimes Nice-Cannes
Nice to Cannes in about four hours
This marathon takes place in the cooler early autumn, starting in Nice and heading over a slightly varied route each year to the finish in the glamorous centre of Cannes.
This is a hugely popular race. Alongside the full marathon, there are also several relay options giving you the chance to run a half marathon as a pair or a distance of around 11km if you are a group of three.
Enjoy a weekend of sea, palm trees, snow-covered mountain views and French Riviera autumn sun!
Watch this
Where and when
The Nice-Cannes Marathon sets off early from the Promenade des Anglais in Nice. The seaside route, 95% of which is coastal, heads west past Nice airport, through the resorts of Saint-Laurent-du-Var, Cagnes-Sur-Mer and Antibes to finish on the seafront at Cannes.
Runners have a maximum time limit of six hours to complete the marathon distance of 42km / 26 miles with 173m+ altitude.
For the main marathon event, there are eight pacers to help you achieve your objectives.
Venue
Promenade des Anglais, Nice
What to see
The marathon isn't the only event that takes place during the day, take a look at these:
The Duo - in teams of two you cover the whole marathon, each one running a half marathon (21.1k).
The 20k - run the first half of the marathon from Nice to Villeneuve Loubet.
Relay Marathon - run 42.195km in teams of three to six runners. Your team will run the same route as the marathon runners, with five proposed relay points along the way where transmission of the baton will need to take place (otherwise the team faces disqualification).
Wheelchair - athletes in wheelchairs benefit from an earlier start time.
There is a Breakfast Run on the day before the run, a free training session over 4-5km on the Promenade des Anglais in Nice, that is open to all runners.
History
Nearly 60 nations and more than 150,000 runners have registered for the marathon since 2008.
Entering
You can register for the event online, in order to validate your registration form you must send a medical certificate.
Your entry fee includes a personalised bib with your name, Salomon t-shirt, SNCF ticket between Nice and Cannes, Salomon finisher backpack, pictures, vintage medal, refreshments and luggage transfer from Nice and Cannes.
Location