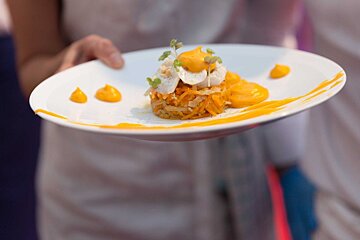 Les Gourmand'Eze Gastronomic Festival, Eze
The best chefs in the world come to Eze
Three days with a packed programme of show cooking, workshops, tastings, conferences, amateur contests and a lot more.
"Between the sky and sea, an art and gastronomy festival in Eze".
Show cooking, lessons and workshops will be the stars of the show.
Culinary Workshops: For young and old alike, accompanied by the best chefs. Discover their techniques and tips to impress your loved ones.
Artistic Animations: Graffiti artists will be present for an introduction to Street Art, in the streets of Eze. Local and international artists will share their art with passion, discovering new technical and visual approaches.
Gourmet Demos: The art of creating, reconciling and bringing to everyone a gourmet, olfactory and sensory cuisine, the chefs from all over the world will lead unique culinary workshops. Gourmet demos will take place throughout the event.
For more information, and to buy tickets, click on the web link.
Location