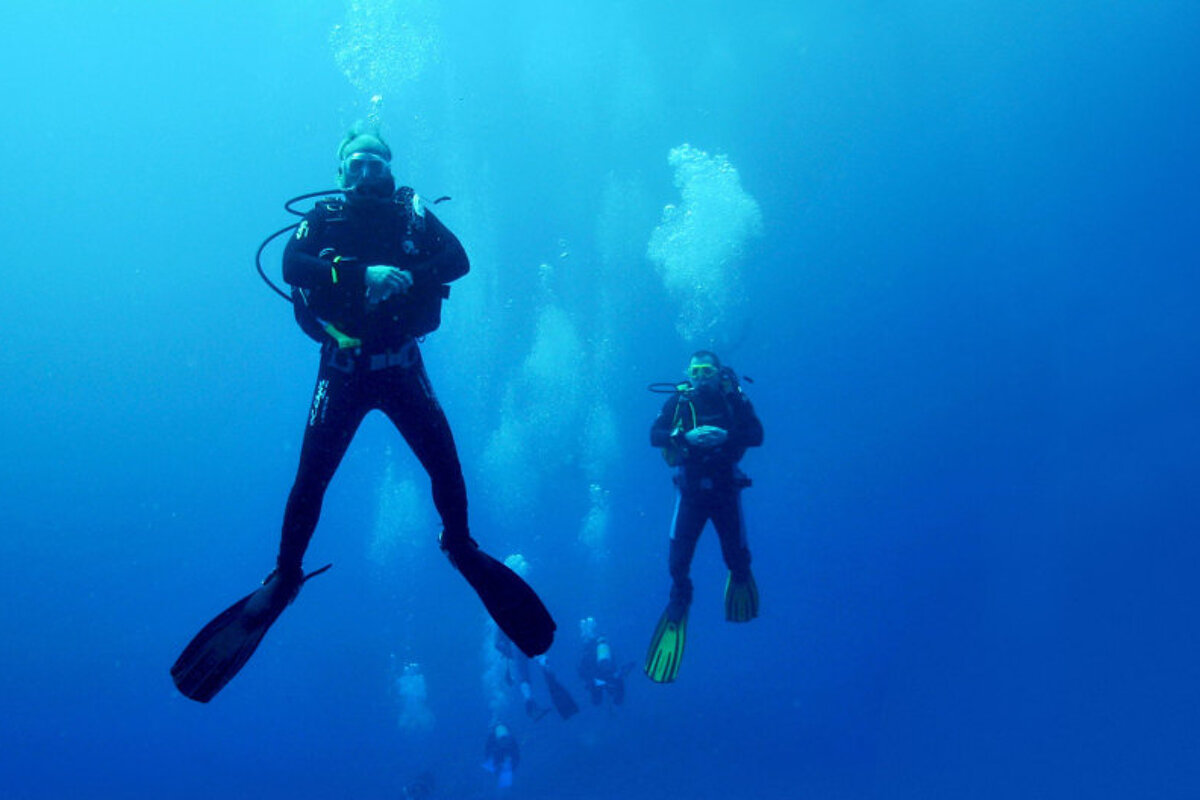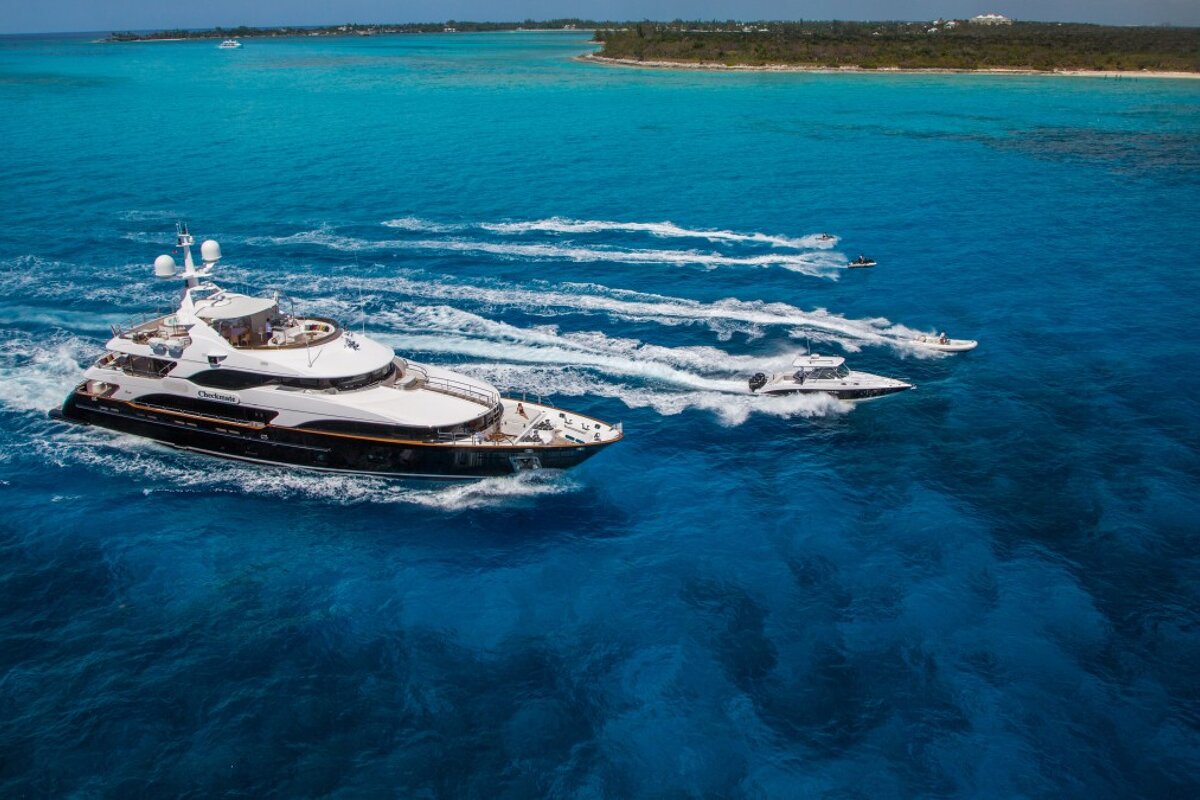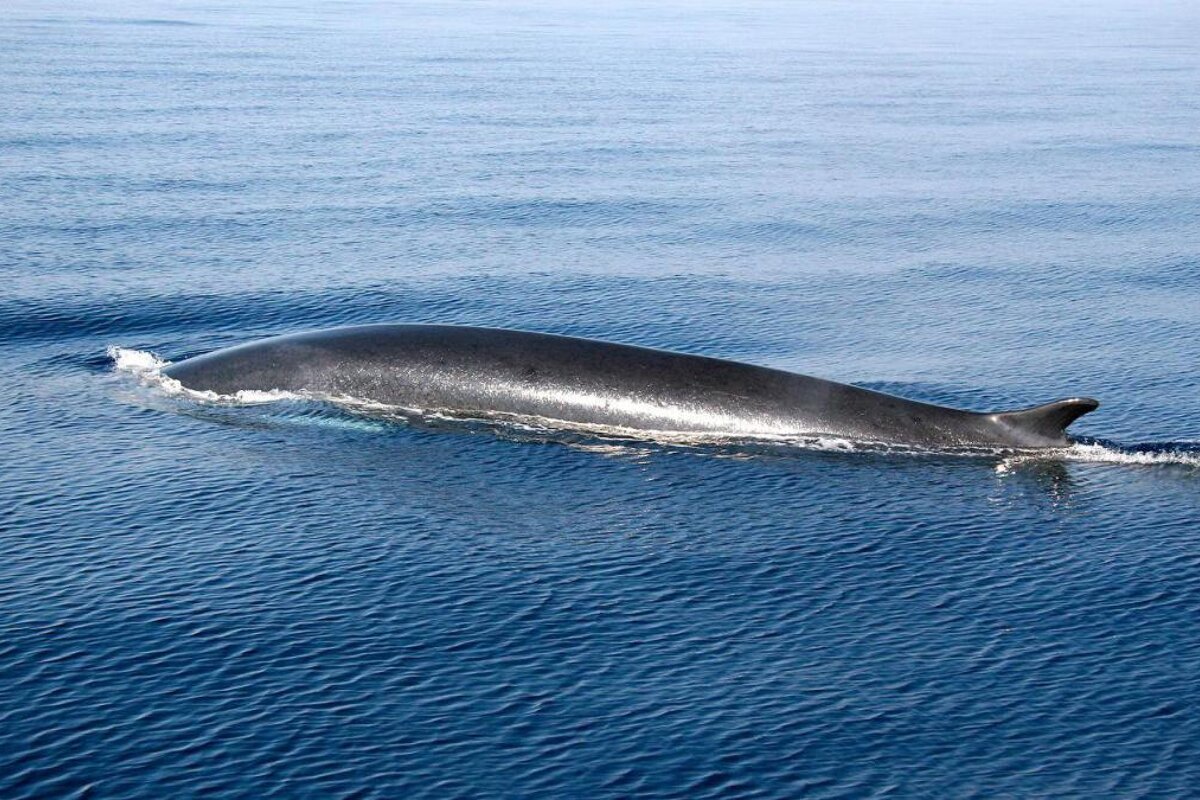 © Mediterranean Sport Fishing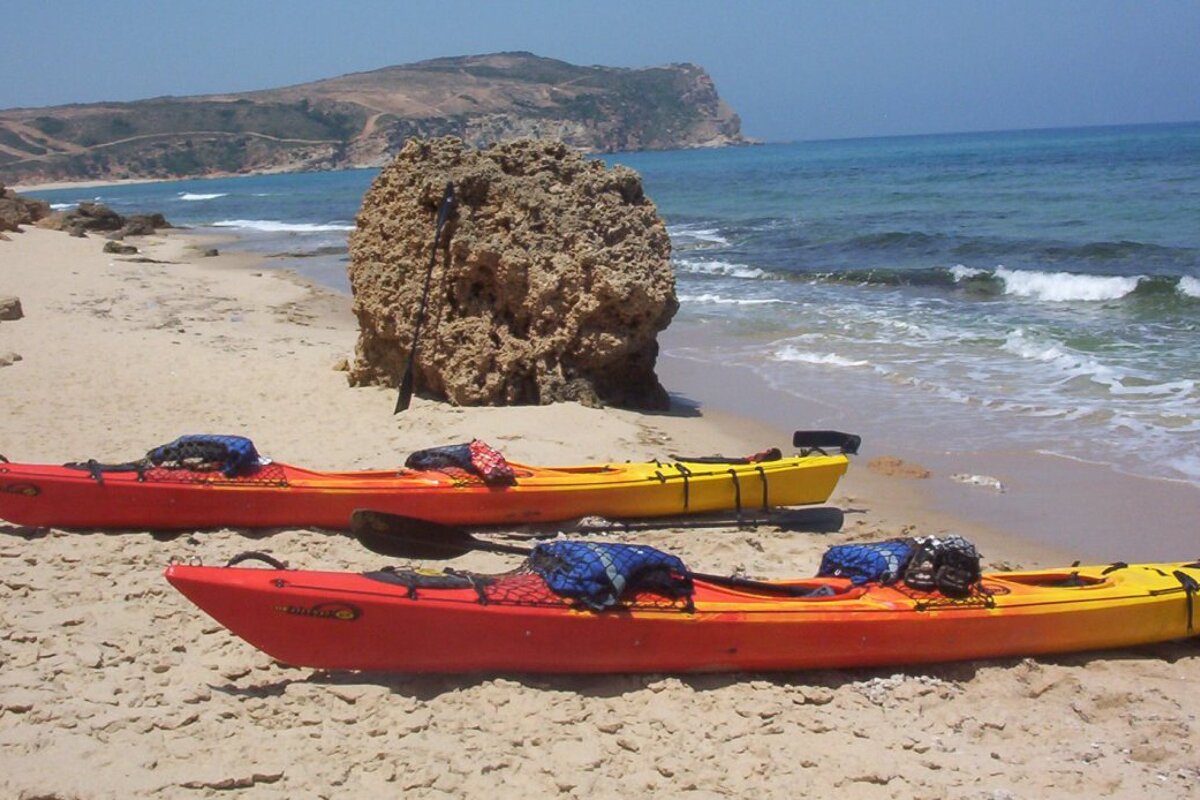 Watersports To Do in Nice
Discover the top Nice watersports
The grand old city of Nice sits on the edge of the Bay of Angels- a glorious expanse of water stretching out before the city's palm-lined boulevards and belle époque hotels.
In the summer months, the calm waters come alive with every type of watersport- from a tranquil kayak around the rocky headlands to strapping on a jetpack and being catapulted 15 metres into the air. There are numerous watersports companies operating along the Promenade des Anglais and beach in Nice. You can't really miss the signs- big yellow parachutes over the sea, jetskis and wakeboards tearing about.
Those looking for a less-crowded watersports experience in Nice could head further down the long promenade to the western suburb of Saint Laurent du Var (near the airport), where there's more space and good conditions for windsports.
Canoeing / Kayaking
For something a little less adrenaline-thumping (and wallet-thumping), why not rent a kayak, canoe or paddleboard? Head around the exclusive Cap de Nice- a beautiful rocky headland of forest and grand villas, with crystal clear waters and a couple of hidden beach coves. You might want to continue on to Villefranche, one of the prettiest bays in the world, with a medieval town spilling down the hill to the ancient fishing port.
You can explore independently or take part in a sea-kayaking tour- your guide will point out the celebrity villas on the cliffs and guide you to some great swimming spots.
Diving & Snorkelling
Scuba Diving: Many consider the south of France to be the birthplace of diving- the first sports scuba dive school was set up on the Riviera in the 1930's and Jacques Cousteau-legendary underwater explorer and inventor of the Aqua-Lung-began his diving odyssey here.
Nice has numerous dive operators in the area by the port, offering day and night dives to more than 30 high-quality wall, cavern and reef diving sites. Noteworthy sites in the bay of Villefranche are a coral grotto, a shallow reef great for beginners, some deep drop-offs and a fantastic airplane wreck suitable for advanced divers. Cap de Nice has some good gorgonian fan coverage as well as a large reef with a Virgin Mary statue- the site of quite a few underwater weddings over the years! Cap Ferrat also has some excellent dives, including the wonderful underwater cliffs and the Sec a Merlot for advanced divers. Some of the clubs dive year-round;visit our dive centres listings for more information.
Snorkelling: The snorkelling is very pleasant in the crystal clear waters around the rocky headland of Cap de Nice, and if you don't set your expectations too high then you'll have a lot of fun. There's nothing wildly exciting here like you'll find in the tropics, but you're quite likely to see schools of pale-coloured fish, eels, and octopus, sea urchins and some red coral. The real pleasure of this activity is probably found in exploring the rocky headland and its hidden rock pools and beach coves- and looking up to the grand villas on this very exclusive headland. If anyone in your party doesn't feel like snorkelling, ask them to pack a picnic of fresh baguette, cheese, and icy cold rose and walk around the coastal path from Nice to meet you at one of Cap Boron's rocky coves. For first-time snorkelers- beware the sea urchin's spikes!
Seabobs: You can also rent seabobs – a kind of handheld underwater jetski-and check out the world beneath the surface. You could also use a seabob with scuba gear if you don't want to keep coming back up to the surface.
Flyboarding
The new craze in motorised watersports is the flyboard, or jetpack- where you strap on a jetpack which is connected to a jetski, which provides propulsion for you to fly 15 metres up in the air or 2.5 metres below the water's surface.
Jet-skiing
French laws mean that need a license to operate a jet ski, or you can ride with someone already qualified. You can gain your jet ski license in Nice, but be aware it takes a day. If you already have your license, you will need to wear a life-jacket and follow all local speed limits and regulations- the water police really are cracking down after some recent accidents so be aware!
Parasailing
Up in the sky, great yellow parachutes float above the sparkling sea, affording their riders stunning views over the palm lined boulevard and the belle époque hotels, the Alps rising high behind the city. The long sweep of the bay of Angels curves down to the medieval town of Antibes in one direction; in the other the cliffs rise up along the coast that winds around to Monaco. This is a beautiful place to parasail.
Sailing & yachting in Nice
Where better to get out on the water in a boat than on the French Riviera? Whether learning to sail, chartering a superyacht for a week or exploring the Riviera coastline in a day boat, Nice is a fantastic place to start your boating journey.
Sailing: You can learn to sail a catamaran or Optimist dinghy with the ASPTT Nice Voile sailing school, which takes all ages and skill levels. The instructors are French, with varied levels of English ability- but they are more than used to teaching clueless foreigners how to sail, and it's a great way to improve your French! (Although this can lead to some confusion, the French word for the jib sail is 'foc', so no, the instructor probably isn't swearing at you.) The school is located between the port and La Reserve Beach, you'll need swimmers, sunscreen and water- children must bring hats and it's advised for adults too- just make sure you don't lose them over the side if it's windy. A waterproof camera is a great idea too. Everything else is supplied, and you'll receive a certificate for any courses completed.
Rowing: The Club Nautique de Nice teaches rowing, and is in the same complex as the ASPTT Nice Voile Sailing School. You'll find it between the port and La Reserve beach, accessed by a staircase.
Yacht Charter: For those with a healthy bank balance, a yacht charter on the French Riviera is one of life's great experiences. Prices vary immensely- starting at around 4000 a week for a bareboat (without skipper), ranging right up to a million euro a week!
If you do choose to charter a yacht for a week, lucky you- for this is wonderful cruising ground. From the port at Nice, you can either head to starboard and cruise along the French Riviera to Saint Tropez, or turn to port, taking in glittering Monaco and crossing into Italy along the Ligurian coastline, past the famous Cinque Terre and gloriously pretty Portofino.
Look at our boat trips and boat charter guides further information on planning and booking a yacht charter on the Riviera.
Day boat rental: There are plenty of wonderful day boat charter experiences in Nice. You can hire out a small dinghy or speedboat to explore this sensational coastline, or hire out a 'party boat' for group events catering to up to 100 guests for parties, weddings, corporate events etc.
Dolphin & Whale Watching Excursions: Acti Loisirs operates 4 hour trips out of nearby Villefranche, and many of the deep sea fishing operators along the coast also offer whale and dolphin watching trips.
Deep Sea Fishing: While you may find local operators offering game fishing trips in Nice port, they don't have websites so you'll just need to wander around the port and see if you can spot a sign for 'Peche au Gros'. Otherwise, the port of Beaulieu sur Mer between Nice and Monaco has several luxury sportsfishing yachts available for game fishing day charters.
Waterparks
The closest waterpark to Nice is the Aquasplash waterpark at Antibes/Biot, which is part of the larger Marineland complex. The Aquasplash centre has waterslides, kids pools, obstacle courses, Magic Rivers and Pirate's Island- while the Marineland Park has live animal shows to keep the kids entertained. There's also an Adventure Golf park and a Kid's Island- but be aware that all of these parks are separate entry (although special deals apply). Further down the coast towards Saint Tropez, Sainte Maxime offers the newest of the Aqualand waterpark franchises. This is reportedly a park better suited to younger children; if you have teenagers they will likely be happier at the larger Aqualand Park at Frejus.
Waterskiing & Wakeboarding
What a place for exciting towed watersports! In high summer, the bay is alive with wakeboarders, jetskis, and people being towed behind jetboats on giant inflatables, screaming their heads off. There are plenty of watersports companies offering towed watersports in Nice.
Remember- the best time for these sports tends to be early in the morning before the sea breezes pick up and ruffle the water. Yet no matter what time of day you go you're sure to have a blast as you sweep and curve around the bay with glorious views all around.
Watersports Safety Advice
Important information about diving: Note that children under 8 cannot dive, and anyone under 18 will need written parental consent. All divers will need to provide a recent medical certificate (some companies say within 3 months, others 12 months) giving them a clean bill of health in regards to diving. If you already have a dive certificate and a log book, don't forget to take them with you, or you Riviera diving experience might be confined to the beginners' group!
The waters around Nice get very busy, so whichever fun and exciting watersport you're doing this summer, make sure you keep an eye out for others in the water.
Happy splashing!
Windsurfing & Kiteboarding
Kiteboarding/ Kitesurfing: This is banned during the summer months along the main beach at Nice for safety reasons, but the nearby town of Saint Laurent du Var near Nice airport is open to this thrilling windsport year-round. The beach here is suitable for intermediate riders and is best in E,SE,S and SW winds. Be aware that the nearby Nice International Airport is a hazard, particularly when the Mistral winds tear through- when the high winds hit this is a site for advanced riders only.
Windsurfing: While you are permitted to windsurf along the main beach, you'll probably find better wind and space conditions at Saint Laurent du Var.