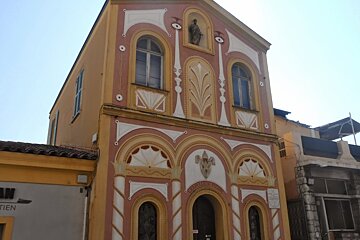 Saint-Pierre des Pecheurs Chapel, Villefranche-sur-Mer
Beautiful church decorated by Jean Cocteau with frescoes
Located near the port in Villefranche is the tiny chapel of Saint Peter, patron saint of fishermen.
Probably dating back from the 16th century, the chapel was used by 20th-century fishermen as a place to store their material and to solve their differences. The chapel is obvious for its pink, yellow and white façade.
Inside, it houses some wonderful frescoes of Saint Peter, painted by Jean Cocteau in 1957. It was his first painted chapel and it depicts five main images, two scenes of Mediterranean life and three dedicated to the life of Saint Peter.
Visitor comments
"This is a fantastic opportunity to view Jean Cocteau's vivid decoration of an old chapel. The religious significance is not very obvious but its a good 3 euros worth." - Trip Advisor
"It was so cool to see that very colorful and bright church sitting tight there in the heart of the city. There's a very nice quaint charm surrounding this place and we'll worth stopping by." - Trip Advisor
"A gorgeous Romanesque 14th century chapel that has an interesting history. Dedicated to St. Peter, patron of the fishermen. It was a Shrine in the beginning then served as a storeroom for fishing gear
In 1957 after numerous stays at a local hotel the writer, filmmaker and painter Jean Cocteau (with the agreement of the fishermen) redecorated the interior and exterior. I wasn't allowed to take photographs inside but it's worth having a look, it's very charming" - Trip Advisor
When to come
Opening hours
April - September: From 10:00 to 12:00 and from 15:00 to 18:00
October - March: From 10:00 to 12:00 and from 14:00 to 18:00
Closed on Monday
Annual closure from mid-November to mid-December
Location