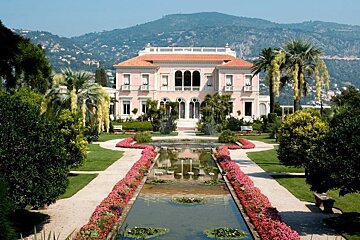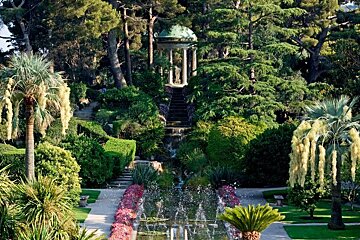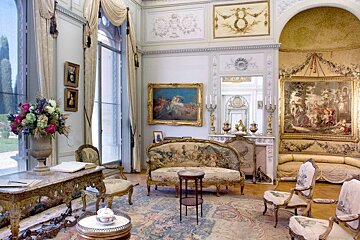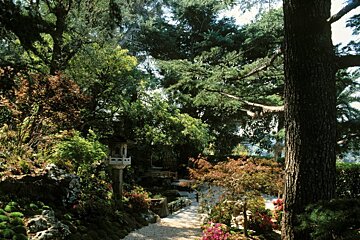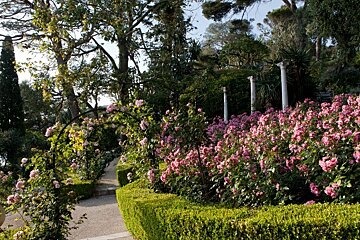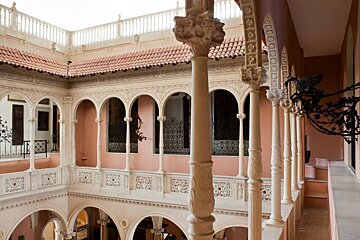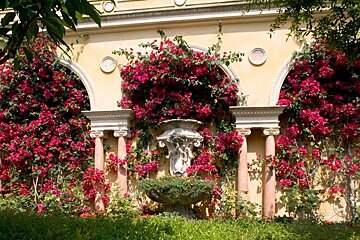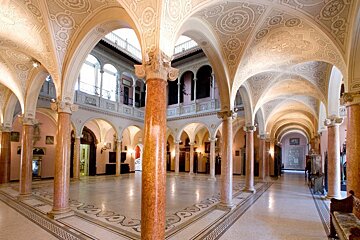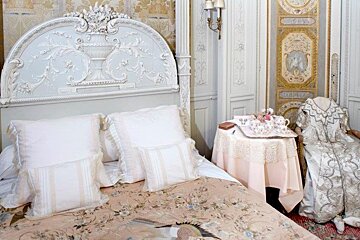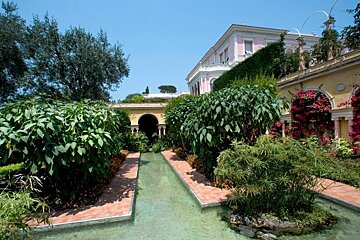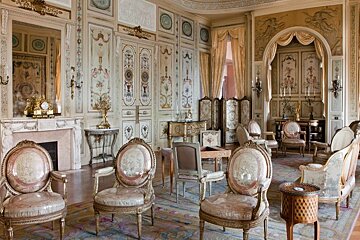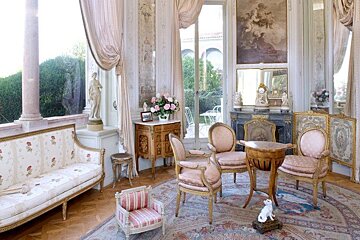 Ephrussi de Rothschild Villa, Saint-Jean-Cap-Ferrat
Stunning villa of Béatrice Ephrussi de Rothschild, a wealthy French socialite
This impressive villa was built in 1906 by Béatrice Ephrussi de Rothschild. It overlooks the Mediterranean sea from Cap Ferrat and it is full of antique furniture, Old Master paintings, sculptures and a collection of rare porcelain, while the gardens are classified as Notable Gardens of France.
Béatrice was the daughter of baron Alphonse de Rothschild, a banker and renowned art collector. At the age of 19, she married Maurice Ephrussi, a Parisian banker of Russian origin, 15 years her senior, and a friend of her parents. The marriage quickly turned sour for Béatrice. She contracted a serious illness from Maurice, which prevented her from having children. Maurice was a gambler and in 1904, his debts totalled over 12 million gold francs, the equivalent of 30 million euros today.
She divorced Maurice in 1904, and dedicated herself to her passion, art collection. When she inherited her father's fortune, she decided to build her dream home in Cap Ferrat. Works started in the garden, which took 7 years to complete, while the villa was began in 1907. Jacques-Marcel Auburtin was the architect who satisfied the demanding Béatrice and built it with an Italiante northern façade with Renaissance influences and a Venetian-influenced southern façade.
She moved into the villa in 1912, which was turned into her winter residence. Inside it is filled with clever trompe-l'œil paintings which disguise the metal columns and retains much of its opulent and rich furnishings.
You can now visit the villa's stunning landscaped gardens, which include spaces in traditional French style, as well as Spanish, Florentine and Japanese gardens. Inside, witness the villa's luxury in its reception areas, as well as in Béatrice's private apartments, sumptuously decorated and full of works of art. Absolutely worth a visit.
Watch this
Worth knowing
There is a lovely tea room & restaurant set in the room that Béatrice used as dining room, with a terrace overlooking the Bay of Villefranche. You can stop here for a snack and, at lunchtime (12:00-15:00), they serve light meals such as salads, quiches and a daily special. When the weather is nice, they set tables in the garden, under the orange trees.
Watch out for
Every 20 minutes, in the French-style gardens, the Musical Fountains start to play, don't miss it!
Visitor comments
"This is a stunning property! Views are beautiful! The Villa itself is lovely but honestly the stars of the show are the gardens. If you have any interest in lovely gardens this is a must-see. And there are several types of gardens: a Japanese garden, a rose garden, etc. It's off the beaten path but all the better." - Trip Advisor
"This has to be one of the most beautiful man-made places in the world. The setting is gorgeous beyond compare. The gardens are wonderful. The house itself is extraordinary. The package taken together is unlike any other place I've ever been. The house is a museum of the things Beatrice Ephrussi de Rothschild collected in the late 19th and early 20th centuries. Much of it is not to my personal taste - which inclines more to the modern in furniture and is left cold by rococo china, 18th century French furniture and art, faded tapestries, over-the-top knick-knacks, and sugary romantic pictures. But the house is incredibly beautiful and is a record of a time and a milieu now gone which is historically important and will fascinate anyone with an interest in modern European history and culture. If you are on the Cote d'Azur, it is well worth a day of your time. The cafe is also fabulously located in the gardens and does lovely - if expensive - salads." - Trip Advisor
"The Villa Ephrussi de Rothschild is one of the most beautiful places to visit on the Cote d'Azur. Built about 100 years ago before the average Frenchman or foreigner had easy access to the seaside, it is a wonderful example of how the wealthy lived and entertained. The rooms are situated with exotic views onto the sea and mountains and the gardens are absolutely splendid in their variety for strolling and photographing. When finished stop in the elegant restaurant to refresh and imagine what it was like to live there." - Trip Advisor
Directions
The Villa Ephrussi de Rothschild overlooks the Bay of Villefranche and the Bay of Beaulieu. It is located 10 kilometres from Nice and Monaco and 800 metres from the Villa Kérylos.
When to come
The villa is open all year, every day, from 10:00 to 18:00. In July and August it closes at 19:00. From November to January it is open Monday to Friday 14:00-18:00 and weekends and holidays 10:00-18:00.
The shop is open during the villa's opening times, as well as the restaurant, except from November an February when it only opens weekends and bank holidays.
How to get passes
A tour of the villa with audioguide costs 13.50€. Reduced rate of 10.50€ for children aged 7 to 17, students and unemployed. Free entry for the second child aged 7 to 17 when two adults and one child entries have been bought.
Location