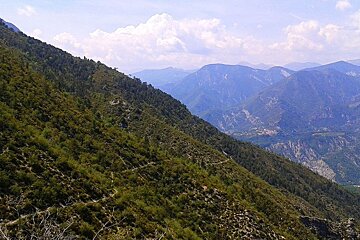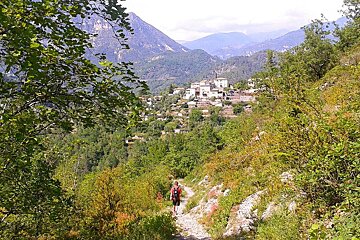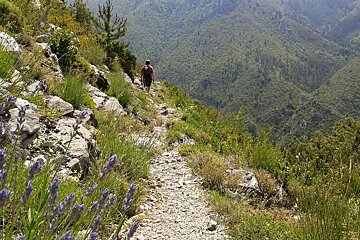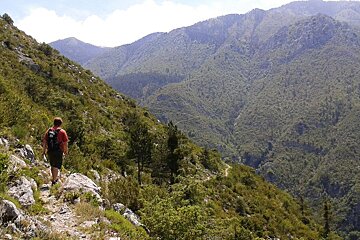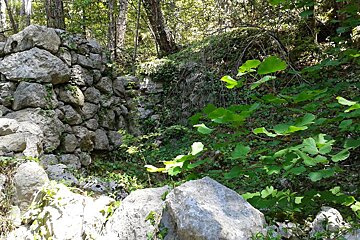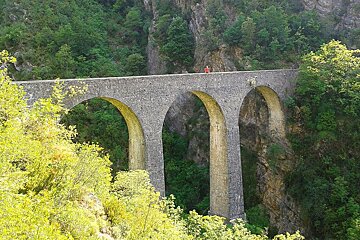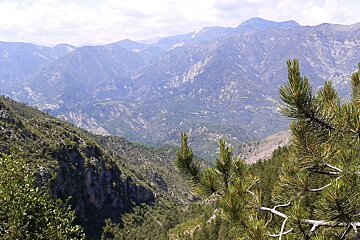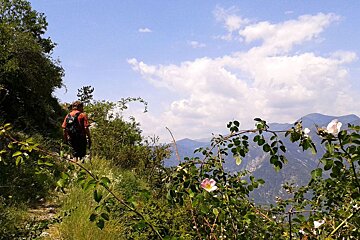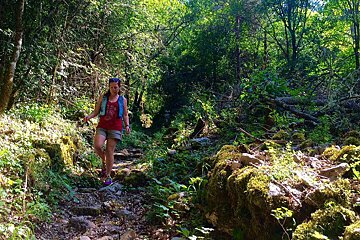 Hiking in the Var: Circuit du Serse
Spectacular scenery and great variety of terrain
This half day scenic hike circles around the north side of Mont Vial, traversing a deep bowl in the Var Valley.
Malaussène is on the Train des Pignes line that runs between Nice and Dignes-Les-Bains, it's a short walk of about 1.7km from the train station up to the village or there is free parking if you come by car. The village is not as touristy as some and very quiet, so don't rely on picking up any supplies here - pack a picnic and whatever else you might need before you set off.
Starting from the village you will already have gained 430m in altitude before you even reach the trailhead. The adventure starts at the small church perched at the summit of the village, overlooking the tiled rooftops and narrow streets. Climbing up behind the church is a steep footpath that twists away from the village and soon enters a pine forest. After a couple of kilometres you'll come to a fork in the path where you take the higher route up to the Col du Serse.
On the first part of the trail look out for old stone ruins hidden in the undergrowth; they are the remains of an ancient settlement. As the trail continues to climb you'll pass through a variety of terrain; the wonderful thing about this hike is that it encompasses just about everything including shady pine forest, colourful wild flowers, rocky scrubland, cacti, olive groves, towering rock faces and cool clear streams. At one point the path scooped round into a horseshoe shape with high rocks all around; the sound of birds bounced and amplified off the stones as if we were in an amphitheatre.
The trail climbs quite steeply to just over 1,000m, with a bit of a scramble over a few boulders, then begins to loop back round towards Malaussène. Happily this means that most of the route is downhill from now on.
As you circle back round you can look across and clearly see the route that you've just taken, etched out on the opposite slope. You're essentially traversing a big bowl and it's very satisfying to see the ground that you've covered stretching out such a long way behind you!
After a while the path will dip further down and re-enter the forest, where at about 8km you'll see a signpost for the "gare" - this is a shortcut back to the train station, which might be a handy option if you're short on time or don't want to return to the village. However, doing this will miss out one of the highlights of the hike - crossing a 16th century 40m high stone bridge that spans a deep ravine.
From the bridge the village starts to come into view in the distance and it is an easy stroll back to where you started.
Location