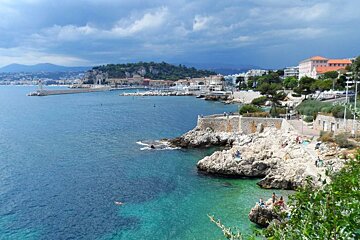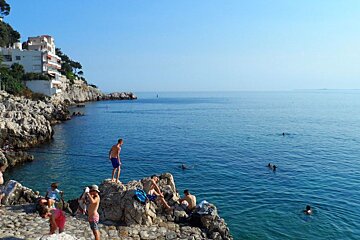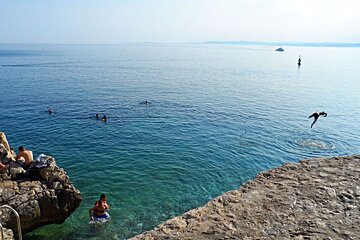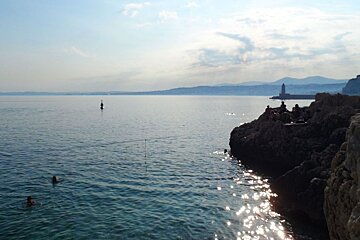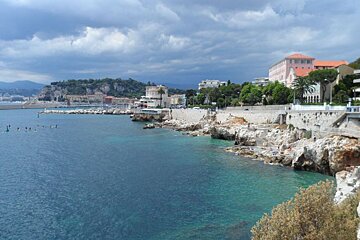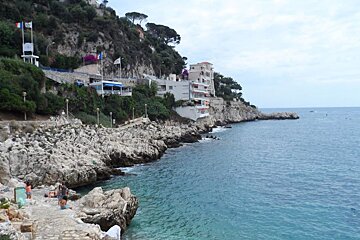 La Plage de Coco Beach, Nice
A rocky outcrop with a small restaurant
The glamorously named Coco Beach is more of a launchpad into the deep blue sea than a true beach.
The rocky peninsula has a winding path twisting through it that leads to clusters of slightly flatter areas that are just about big enough to spread out a beach towel.
Coco Beach is a popular hangout for locals who just want a quick dip without having to squeeze in amongst the hoards of tourists at Promenade des Anglais. There's often a slackline stretched between some of the coves, which is always entertaining to watch as wiry young local lads attempt to inch their way across without falling in.
There are a few showers scattered along the various rocks of Coco Beach but that's about all in the way of facilities. It's not the kind of beach where you'd want to spend all day though, so other than a bottle of water you don't really need much. Just jump straight in!
Beach Bars & Beachclubs in Nice
The one restaurant, conveniently called Coco Beach, perches amongst the cliffs with fabulous views across the water. It has been open since 1936 and has always remained in the hands of the same family, so you can be sure of some authentic local cuisine. The fish is as fresh as can be, caught daily and grilled over a log fire; the wood panelled restaurant has a quaint maritime feel to it and there are plenty of photos of the old days when the restaurant was nothing more than a fishing shack.
Setting & Location
This beach is situated in a residential area, just a short walk from the port area of Nice.
Water Safety & Clarity
There are ladders leading down into the water, or you can just take the plunge and leap straight in - checking first for rocks beneath you. The water gets deep very quickly so once you're in, you're in, there's no messing about with trying to get wet gradually.
There are lifeguards here during the peak summer months but you should still take care as the area is quite exposed, which means that in some weather conditions the waves can be quite powerful - this is not an ideal family beach but is fine for confident swimmers who want to get straight in the water without having to wade out at all.
Beach Quality
Not so much of a beach but there are some flattish rocks to spread your towel on.
Directions
Access to the beach is by bus or velobleu, or it's just a short walk from the port.
Location